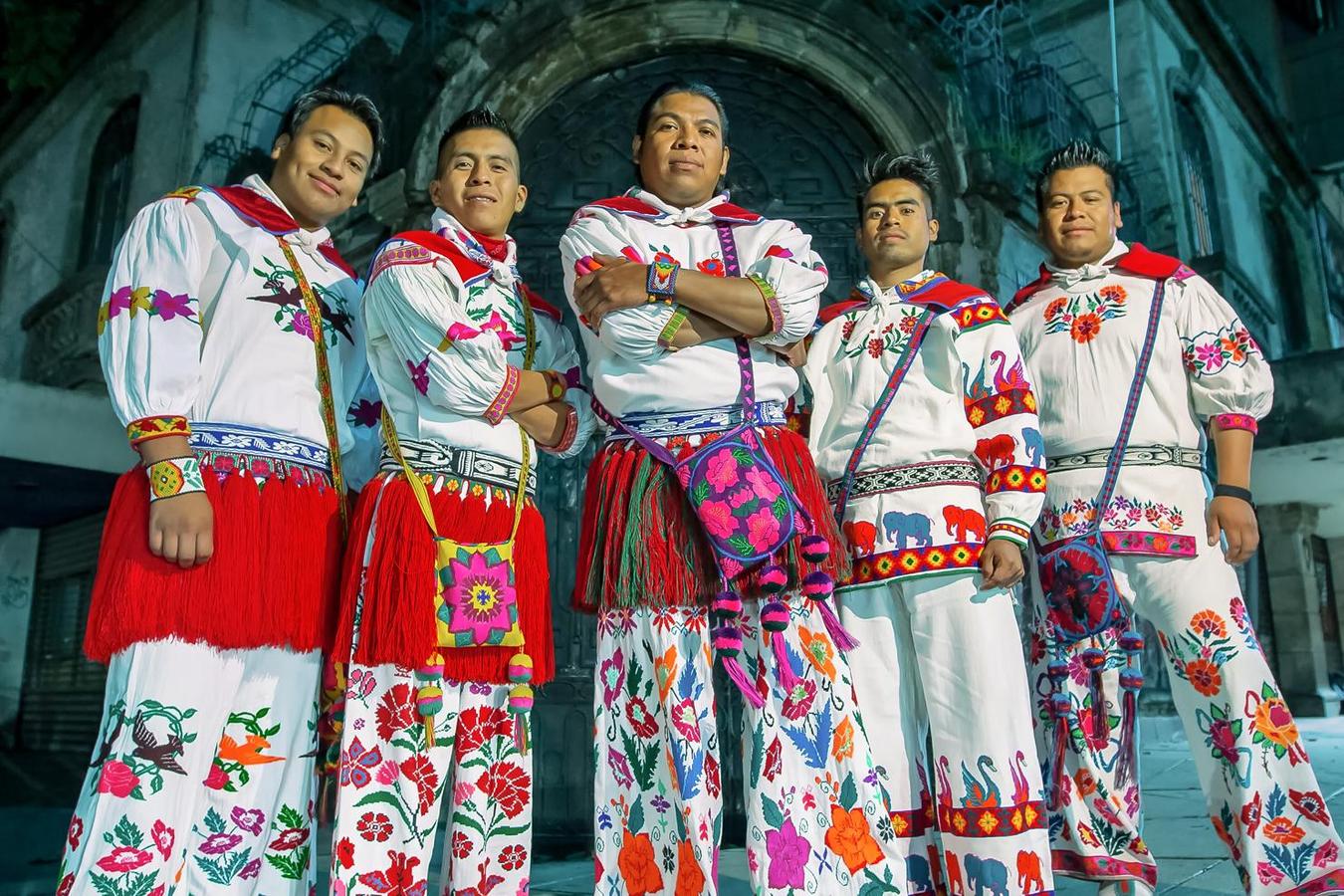 The GRAMMY® nominated Mexican quintet Huichol Musical
By Karen Ostlund
(stroll down for new photos from the event)
Hollywood Forever Cemetery presents the 16th annual Dia de los Muertos festival this Saturday October 24th - one week before its date November 1st in our calendar.
This years theme is Shamanic Visions of the Huichol.
This Saturday, October 24th, 2015: 12pm until 12am
Featuring on the Main Stage:
LILA DOWNS, HUICHOL MUSICAL, LA MISA NEGRA, EL MARIACHI MANCHESTER and EDNA VAZQUEZ
Huichol Musical is a quintet from the Sierra Madre Occidental region of Jalisco, Mexico. The band takes its name from the Huichol, an indigenous Mexican ethnic group whom the Aztecs called "the Ancient Ones." Huichol Musical made their major-label recording debut in 2008 with Desde México… "Cumbia Cusinela". Given its novel mix of indigenous cultural cues with contemporary regional Mexican musical styles, Desde México… "Cumbia Cusinela" became a sensation, spawning the hit singles "Cumbia Cusinela" and "La Cusinela," the former of which features lyrics sung in the Huichol language. The album spent 42 weeks on Billboard's Top Latin Album Chart, earning a GRAMMY® nomination for Best Mexican Regional Album and a Lo Nuestro nomination for Grupero Artist of the Year in 2008. After international success and a sabbatical break, Huichol Musical returns in 2015 with their fifth studio album titled "Cielito Lindo". The single by the same name is a song considered the jewel of Mexican traditional music; the group tattooed their own style fusing native sounds with contemporary regional music.
Lila Downs
Lila Downs has one of the world's most singular voices and innovative approaches to music. Born in the state of Oaxaca México, she is the daughter of a Mixtec Indian woman, Anastasia Sanchez, who ran away from her village at 15 to sing in Mexico City cantinas and a University of Minnesota professor Allen Downs, who saw her singing and fell in love. Lila grew up both in Minnesota and Oaxaca, and studied classical voice and cultural anthropology at the University of Minnesota. Her music and vocal artistry have many influences and is as varied as the ancient cultures that serve as her inspiration. For two decades Lila Downs has traveled throughout the world reinterpreting the roots of music, such as blues, jazz, soul, cumbia, rock, even rap and klezmer music. She weaves various musical forms with traditional Mexican and native Mesoamerican music, singing in Spanish, English and the languages of the Mixtec, Zapotec, Maya and Nahuatl cultures. Lila has recorded 9 studio albums, garnering a Grammy and three Latin Grammys.
AZTEC dancers
TOTO dog statue from 1939 movie Wizard of Oz
Altar Decor 21 Gomez
Altar 8 Decor
Altar 54, couple in-front a bench
Altar 58 driver in car
Altar 20 Dancing couples
Altar 71
Altar 61 Fix Nation, Karn Myers Altar- A Free Spay/Neuter Service for homeless cats
Dia de Los Muertos attire strongly encouraged – Come dressed in your finest Calaca apparel
Spend an eventful day relaxing and watching the evening stars appear as the cemetery comes to life with joyful celebrations
Enjoy fine Mexican cuisine and a wide spectrum of Day of the Dead arts and crafts available for purchase
Plan ahead where to park and please carpool
Pre-Purchase your tickets to avoid lines day of the event
Location Address:
Hollywood Forever Cemetery
6000 Santa Monica Blvd.
Los Angeles, CA 90038
Winner of costume contest
Danny Gamboa's Altar 27 was dedicated to Southern California bikers that lost their
lives in bike accidents
A vibrant traditional procession in the home of Hollywood's Immortals with traditional Aztec blessings and Regional Musical-Dance group dedications
Musical performances by Grammy Award winning recording artists
100+ Altars created by members of the community to their ancestors and loved ones
Hundreds of Aztec Ritual Dancers in full costume
Three stages featuring music and theatrical performances
An Art Exhibition in the Cathedral Mausoleum curated by Luis Villanueva
A costume contest for the best dressed Calaca (skeleton)
A children's arts project area presented by Artist & Craftsman Supply
Arts and Crafts vendors
Food vendors from around Los Angeles
Presentation of Altar winners – The judges will select the best altar of each of the following categories: Theme of Huichol, Traditional Altar, Contemporary Altar – the best of each category wins $3,000
Schedule:
ALTAR EXHIBITS 12pm – 12am
Winners announced at 7:30pm at Main Stage
AZTEC DANCES & RITUALS 12pm – 12am
Throughout the cemetery grounds
CHILDREN'S ART CENTER 12pm – 6pm
Make a Gods Eye • Arts & Crafts • Face Painting
MAIN ENTRANCE
Huichol Shaman "Blessing" 1:00pm
PROCESSION from entrance to main stage 1:00pm – 1:30pm – Led by Huichol Shaman
COSTUME CONTEST 12pm – 7pm
Photo booth – at chapel island inside main entrance
Winner announced at 7:30pm at Main Stage
CATHEDRAL ART EXHIBIT 12pm – 12am
OFFICIAL ARTIST OF THE YEAR: Cilau Valadez
OTHER ARTISTS:
Daniel Cervantes
Francisco Loza
Jesus Molina
Luis Alberto Saavedra
Luis Villanueva
Manuel Benitez
Manuel Sauceda
Mar Abella
Maria del Refugio Coronado
Mario Odasa
Mauricio Canas
Rogelio Hernandez
Salvador Rodriguez
Serafin Venegas
LA CATRINA STAGE 3:00pm – 9:30pm
MUSIC, THEATER & DANCE
Nayare – Folkloric Dance Group
Hermanos Rios – Musical Group
Libre Movimiento – Butho Dance
Jesús Angulo – Singer
Dance Art "WIXARITARI" special choreography debut
Malena Durán – Singer
Conjunto Hermanos Rios – Musical Group
EL FANDANGO EN SU ESPLENDOR STAGE 3:30pm – 12am
TRADITIONAL MUSIC FROM SOUTH EAST COAST OF MEXICO
Ballet Xhanat de Fiacro Castro
Ballet Internacional de Lucia Parra
Conjunto Tenocelomeh (Son Jarocho)
Conjunto Regional Alma Suriana (Nayarit)
Conjunto Jardin (Son Jarocho)
Along for the Ride (Bossanova)
Estampa Nayarit (Regional Alma Suriana)
Estampa Jarocha (Tenocelomeh)
Conjunto Zacamdu (Son Jarocho)
Emanuel Benitez "Manu" (Canta-Autor Nayarit)
Viento Callejero (Cumbia Urbana)
Son Cache (son Cubano, Salsa)
MUERTE Y TRADICIÓN STAGE 1:30pm – 10:30pm
MAIN STAGE – MUSIC & DANCE PERFORMANCES
LILA DOWNS
HUICHOL MUSICAL
LA MISA NEGRA
EL MARIACHI MANCHESTER ( The Smiths / Morrissey Mariachi Tribute)
EDNA VAZQUEZ
General Admission: $20 per person
Children 8 years and under free until 4pm
Seniors 65 and over free until 4pm