Chevrolet Volt Named Winner of Green Car Journal's 2016 Green Car of the Year
Finalists included the Audi A3 e-tron, Honda Civic, Hyundai Sonata & Toyota Prius.
By Karen Ostlund at LA Auto Show (last day open November 29th, LAAutoShow.com)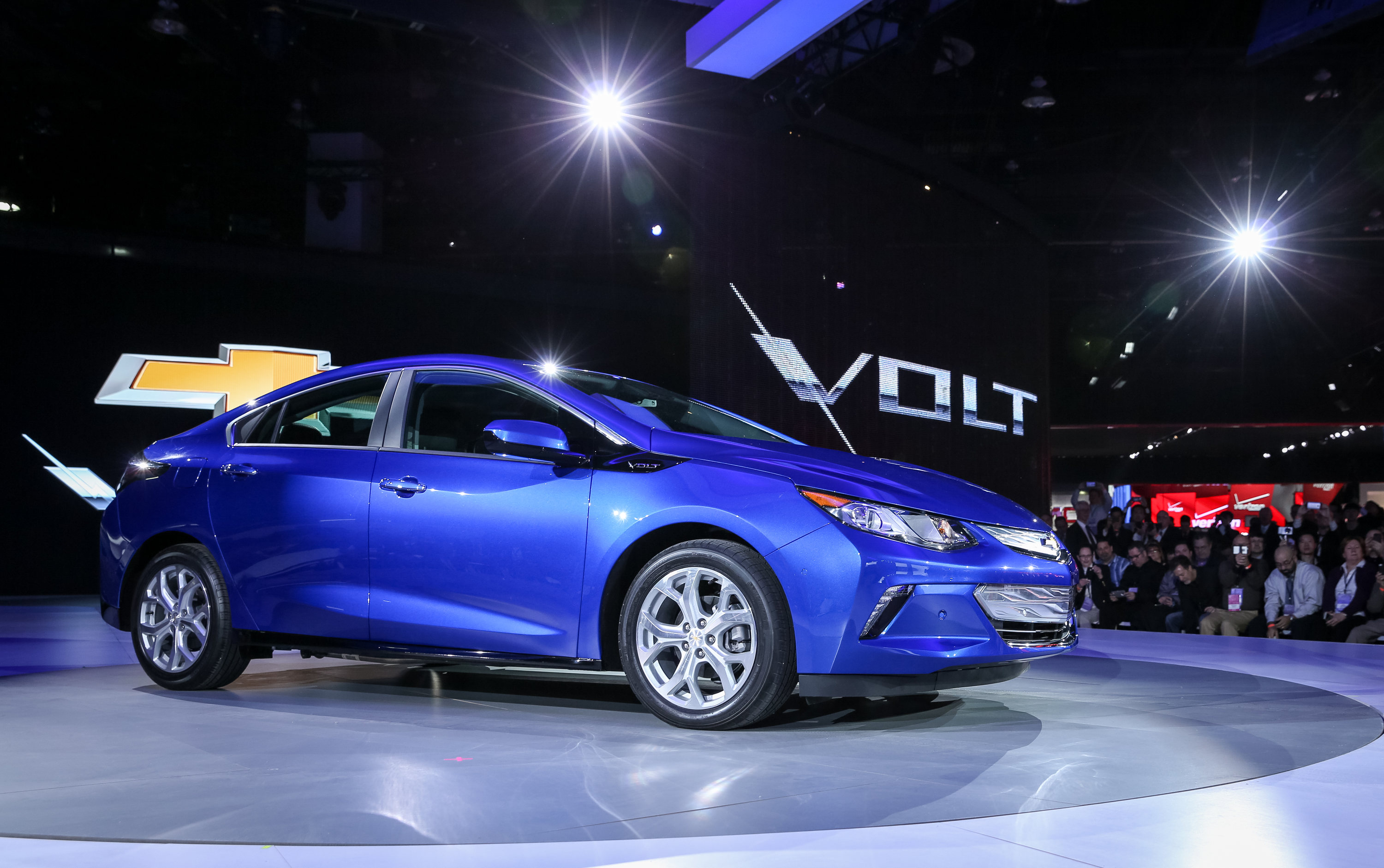 Downtown Los Angeles at La Auto Show convention center, winner Chevrolet Volt press conference prior to Green Car Journal Award
The second-generation 2016 Chevrolet Volt, an all-new and significantly improved version of the automaker's groundbreaking extended range electric vehicle that first made its appearance in 2011, has been named Green Car Journal's 2016 Green Car of the Year®. The award was announced during a press conference at the LA Auto Show on
November 19
. Other finalists for the 2016 Green Car of the Year® award included the Audi A3 e-tron, Honda Civic, Hyundai Sonata, and Toyota Prius.
Green Car Journal
editors point out that the 2016 Volt has improved in virtually every way, with a sleek and sporty design, more energy-dense batteries, new electric motors, and quicker acceleration. It features a more efficient 1.5-liter engine-generator that creates on-board electricity to power the Volt's motors for a total 420 miles. Among its most important achievements is an increase to 53 miles of driving exclusively on batteries.
(L) Ron Cogan, Editor of Green Car Journal & Steve Majoros for Chevrolet
An increasing number of vehicle models are considered for the Green Car of the Year® program each year, a reflection of the auto industry's expanding efforts in offering new vehicles with higher efficiency and improved environmental impact. Green Car Journal has been honoring the most important "green" vehicles every year at the LA Auto Show, since its inaugural award announced at the show in 2005.
"This is the first time in Green Car of the Year
®
history that a vehicle has won the award in two succeeding model generations," said

Ron Cogan

, editor and publisher of Green Car Journal and CarsOfChange.com. "Considering all the brands and models evaluated in the award program, that's quite a statement. The Chevrolet Volt was a standout when it won 2011 Green Car of the Year® and continues in that role today as the 2016 Green Car of the Year
®
."
The Green Car of the Year® award is an honor widely recognized as the auto industry's most important environmental accolade. Green Car Journal has been the leading voice in the intersection of automobiles, energy, and the environment since the publication's launch in 1992.
Finalist Audi A3 e-tron 2016
"Chevrolet is bringing fun-to-drive, technology-loaded, and affordable electric solutions for our customers, and the 2016 Volt delivers on all fronts," said

Steve Majoros

, Chevrolet marketing manager. "For the Volt to stand out as Green Car Journal's Green Car of the Year® reaffirms Chevrolet's commitment to delivering electric solutions to our customers that exceed their expectations."
The Green Car of the Year® is selected through a majority vote by an esteemed jury that includes celebrity auto enthusiast

Jay Leno

, plus leaders of noted environmental and efficiency organizations including Jean-Michel Cousteau, president of Ocean Futures Society;

Matt Petersen

, board member of Global Green

USA

; Dr.

Alan Lloyd

, President Emeritus of the International Council on Clean Transportation; Mindy Lubber, President of

CERES

; and

Kateri Callahan

, President of the Alliance to Save Energy.
Finalist Hyundai Sonata Hybrid 2016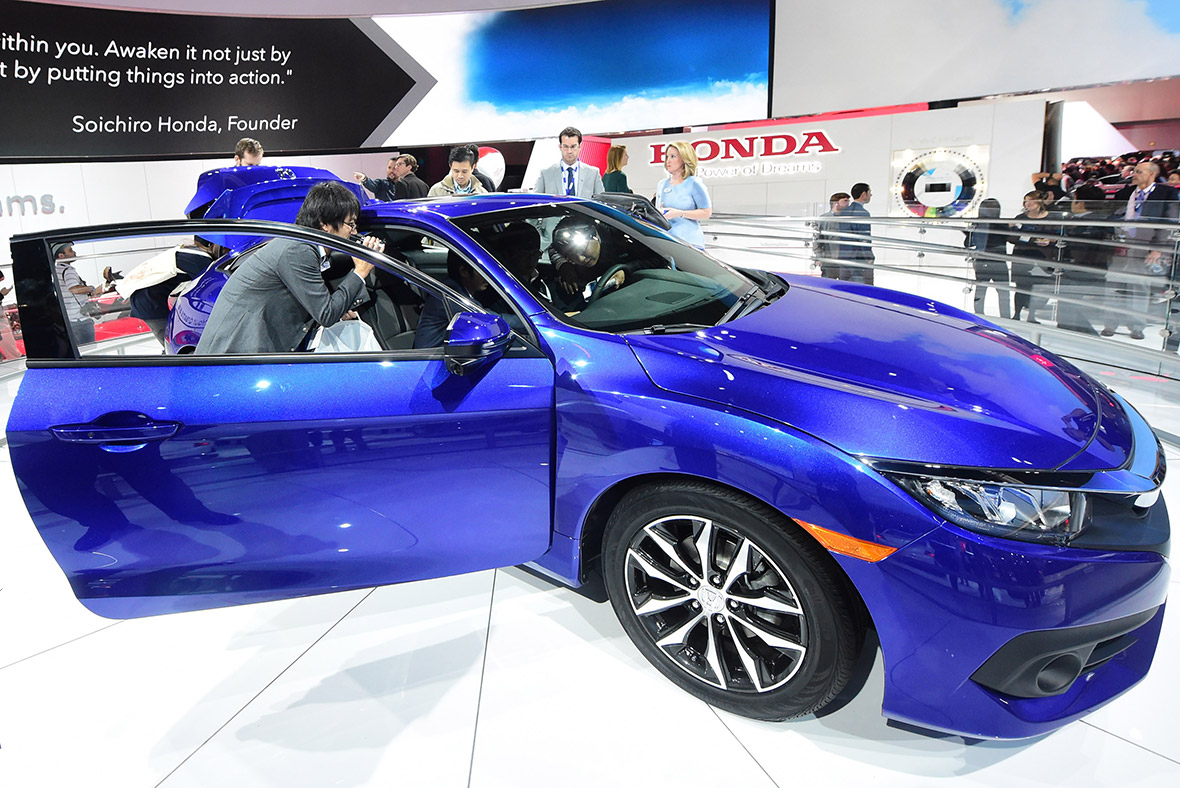 Finalist Honda Civic 2016
During the award's vetting process, Green Car Journal editors consider all vehicles, fuels, and technologies as an expansive field of potential candidates is narrowed down to a final five. Finalists are selected for their achievements in raising the bar in environmental performance. Many factors are considered including efficiency, EPA and CARB emissions certification, performance characteristics, 'newness,' and affordability. Availability to the mass market is important to ensure honored models have the potential to make a real difference in environmental impact, and finalists must be available for sale by January of the award year.
Last year, the Green Car of the Year winner® was the BMW i3.
Finalist Toyota Prius 2016
About Green Car of the Year®
The GCOY award is an important part of Green Car Journal's mission to showcase environmental progress in the auto industry. The magazine's CarsOfChange.com site presents 'green car' articles online along with a focus on connectivity. Green Car of the Year® is a registered trademark of Green Car Journal and RJ Cogan Specialty Publications Group, Inc.
Hashtag
: #GreenCarJournal