By Karen Ostlund
CiderFest LA will make its debut in Hollywood's Raleigh Studios this Saturday, the 19th of September in two sessions, one afternoon and one evening session.
The unique layout of this festival has been crafted into three areas, each staffed with a team of Craft Concierges:
Section one consists of the TASTING PAVILIONS and is organized by style, with a total of ten Tasting Pavilions there is quite a variety. The Raw Cider section are simply nude while others like the Full Bodied Beer & Cider Section, which are are more complex.
The second section is MEET THE MAKERS CIDER & BEER ROW which is the core of the educational push and will play host to the proudest brew masters to show off their product.
The third section is the CIDER & BEER GALLERIES which consist of the most purveyors of fine culinary flavor. All cider and beer selection will be represented in this section.
Troy Cider from California
Cider is popular with health seekers and the gluten-free crowd. "L.A. is the largest market for cider in the U.S., based on sales volume," said festival producer Mark McTavish. "Shocking to many, but it's true."
"These are not the ciders you see on TV commercials, nor will you see their ads on the wall in the restroom at a Las Vegas night club. No, these are real ciders made with 100% fresh pressed juice. No water added. No artificial ingredients. Just the raw goods. These are orchard sourced ciders that sell out every year, relying on next year's harvest to bring another bounty of juice. We have assembled a collection of rare products, never seen before in Southern California""The L.A. Cider Fest is 100 percent curated with quality in mind," continued event producer McTavish "The majority of our selections will be new to consumers in L.A., as they are rare and limited in production."
Many drinkers don't have access to the small-batch ciders that will be available at the L.A. Cider Fest. This makes the fest an opportunity to change minds and challenge palates, broadening the cider spectrum from saccharine bombs to balanced and nuanced beverages. The fest will feature tasting pavilions, organized by style, so that you can isolate what you do or don't like about a cider and get an idea of what to pair with it.
You can expect a wide range of cider flavors and even textures. The imports are especially worth sampling. Canadian Sea Cider Prohibition is aged six months in Screech barrels, lending it a strong rum character and high alcohol content. French import Bordelet Poire Granit is a perry (cider made from pears), far more delicate than the barrel-aged selections. Full list of Cider Houses participating:
http://www.labeerandciderfest.com/selections/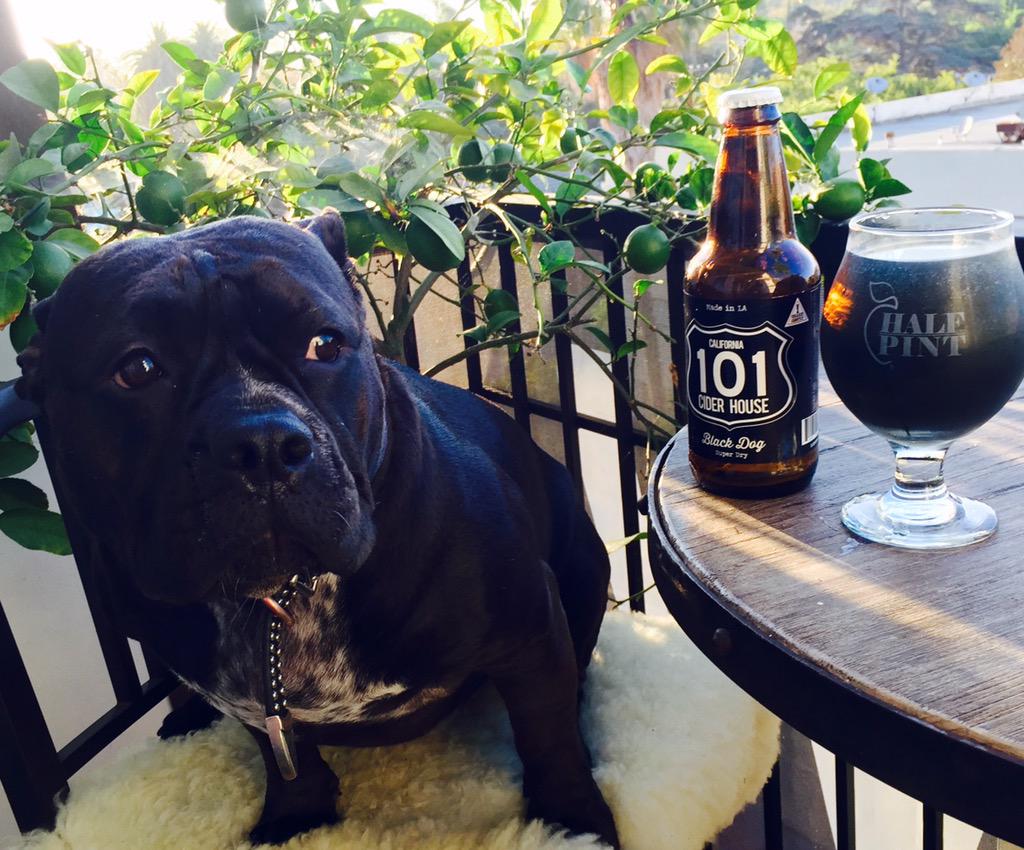 Black Dog Cider by 101 Cider House
101 Cider House will also have its latest release, Black Dog cider. The world's first "black cider," Black Dog is made with Newtown Pippin apples, Ventura County lemons and activated charcoal from coconuts. This release comes on the heals of the activated charcoal craze you've witnessed at your nearest juice bar. 101 Cider House also will offer its full lineup of bone-dry ciders.
L.A. Cider Fest, Sat., Sept. 19, 1-4.30pm and 6-9.30 p.m.; Raleigh Studios, 5300 Melrose Ave.
More info and tickets:
www.CiderFestLA.com
For $

10 off general admission tickets e

nter promo code WHOLEFOODS or for $15 off VIP tickets enter promo code WHOLEFOODSVIP