Photos & story by Karen Ostlund in West Hollywood
The West Hollywood hot spot, Bagatelle night club and restaurant on La Cienega, has recently gotten a whole new look, thanks to the recognizable artwork of world renown pop artist
Nelson De La Nuez
, known as The King of Pop Art. The opening reception for his art was held the day before the Emmys, September 19, but stays in the restaurant permanently.
(Center),Nelson De La Nuez w friends at DJ booth at Bagatelle
restaurant in West Hollywood.
Bagatelle mixes elegant chandeliers, white tablecloths and French cuisine with the vibrant pop art of the famous artist.
The restaurant is legendary for its St Tropez style, lively champagne brunches that say to the world, "Live your life fully in the moment; Dance on tables, drink fine champagne out of the bottle, love your life."
De La Nuez conveys messages through his artwork about living the good life and enjoying what you work hard for in his art piece "Darling, all I require are fabulous shoes!"- which is why his glamorous pop art and sophisticated Monopoly/Wall Street pieces fit right in.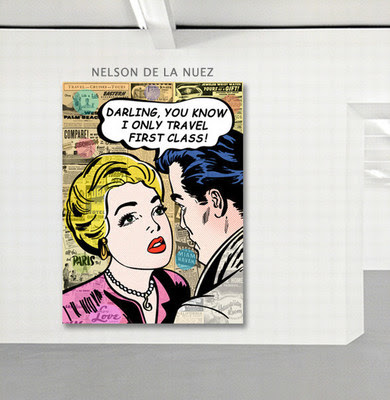 The Good Life, 61"x48" mixed media canvas: Artist Nelson De La Nuez
Belvedere vodka and Moet Chandon to
celebrate art opening
The King of Pop Art, takes Bagatelle to a truly unique, sophisticated yet fun, pop art world! He's brilliant," said
Laurent Zilber, partner at Bagatelle restaurant.
"He's painting as fast as he can to fill orders for galleries and clients but it's getting harder to keep up." There's only one King of Pop Art and it's all created by him.
"Nelson's colorful humor and talent fits like a glove with our elegant Bagatelle upbeat, party ambiance. We pop the bottles (champagne), Nelson pops the art!" exclaimed Zilber.
'Darling all I require are fabulous shoes'


Nelson De La Nuez's

artwork is hanging in some of the most prominent, private and corporate owned collections in the world. His celebrity collectors range from the recent

Sarah Jessica Parker

to the infamous

Michael Jackson

to

Paris Hilton

and

Seth MacFarlane

and many more. De La Nuez's pop art is sold in galleries and auctions internationally. He is listed on the "Who's Who List of the Most Collected Artists of Our Time"

and recently featured in an article in the current Sept/Oct issue of the prestigious Private Air magazine for the uber wealthy, jet set lifestyle.